It's a question I get asked at the end of pretty much every workshop I run: "What's the key to building a regular writing habit?" It seems like a pretty common issue among the writer community – consistent writing practice. After listening to world-renowned authors on writing podcasts talk about their struggles with this too, I realised it isn't just those of us who are new to writing either!
And I have learned over the years that there's only a few things that help me stick to writing regularly. I'm going to share them with you so that you don't have to spend hours berating yourself for not keeping up with the mad routine you've set yourself up with.
Read on to find out my 3 steps that keep my writing practice on track.
What are the benefits of having a regular writing habit?
I bet you've heard this numerous times from the likes of literary legends such as Margaret Atwood, Elizabeth Gilbert and Chimamanda Ngozie Adiche…but the way to get something written—and to improve— is to write regularly. Take it from me, your writing motivation will never be constant—so your routine really needs to be!
Developing a regular writing habit will support you in feeling in control of your writing process. You might know that I have anxiety issues, so having a daily journaling session keeps me grounded while also giving me a sense of accomplishment. Your practice might not be journaling, it might be a little challenge you set yourself (a daily haiku or 5 lines of your book – whatever!) but having a little ritual is so beneficial!
And when you've got a regular writing habit you're less likely to get hit by writer's block. Because you're writing. Every day! It might not be direct writing on your specific project, but you'll never be "stuck".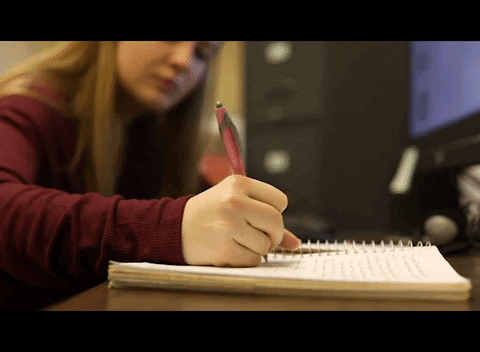 So how can I do that exactly?
It's not necessarily about giving yourself strict guidelines. For me, it's all about recognising what works and what doesn't work. What I love and what I hate. For example, I am not really a morning person, so it'd be a daft idea for me to decide that 6am is the time I set aside for regular writing sessions. For you, though, it might be the perfect time! No writer is the same.
I've developed a few steps that help me stick to my regular writing habits and will share them with you now!
Step 1: Keep it simple
The key to building a regular writing habit is EASE! Make it as simple and easy to keep up as possible. Try not to overcomplicate your regular writing practice. It's exactly what it says it is: practice. And just like a stage rehearsal or a practice training run, it's going to be a bit messy. But it's not for anyone else, so switch off that perfectionist nonsense right now!
Simplify your writing practice so that you ease into these habits. Sit in the same comfy spot to write and try to maintain a level of "tidy". Don't over plan, stick to the basics. Block out a set amount of uninterrupted time and go for it. If you're doing an early morning session, have everything laid out ready the night before—pen, notebook, water—and get those pages written! Don't forget to check out my resources page to get access to free writing prompts.
Step 2: Realistic expectations
A mistake writers make (including myself!) is setting your own expectations too high. "Today I'm going to write the first 6 chapters of my book!" Or "I'm going to get up at 5am and write for 3 hours".  These aren't helpful and when we don't achieve them, we tend to feel down. Have minimal expectations of yourself and don't set a really high word count target for yourself. The simple act of a daily or regular writing practice is enough to keep you moving and motivated.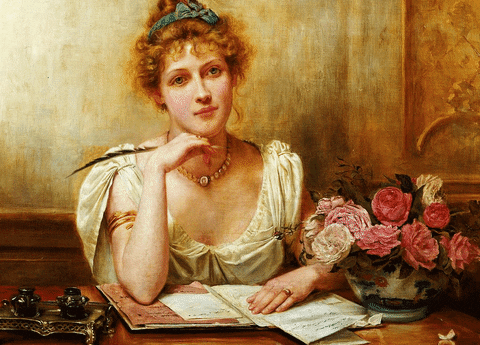 If you haven't yet tried morning pages, give it a go. This low expectation method is especially useful for developing your solid writing habit. It seems to work for so many other writers, why not try it too? Basically, you write three pages each morning—by hand if you can or on your device if not. It's for your eyes only, so it doesn't have to be pretty—JUST WRITE!
You can use journal prompts to support this practice if you struggle, and this also takes off the pressure of the dreaded BLANK PAGE. But by giving yourself something to write every single day, you're essentially giving your creative muscles a stretch and warm-up. You've prepped for all the fab stuff brewing to flow!
Watch this if you want more inspo on building a regular writing habit.
Step 3: Get some accountability
We all know that creative people, like me and you, are the kings and queens of procrastination. Tell me you haven't lost hours of your writing time down Internet rabbit holes, doing chores instead, or suddenly finding time to call your aunt about that thing…?! And it's not about deadlines because actually I find that those make my procrastination worse. So we need to have someone to report to, someone to hold us accountable, or we will never do anything!
Whether that's a friend or a book coach, a local writing group or a coworking buddy on the internet, it helps to have someone asking you how it is going. You can tell them your targets for the week or month and ask them to check in with you on the reg. And if you're looking for some accountability and additional support, check out my online writing courses.
Hopefully these tips will help you with building a regular writing habit so that you can achieve your writing goals!
Good luck and don't forget that you can join in the community chat over on Instagram where me and other creatives hang out and discuss our writing dilemmas! Share your tips for creating a regular writing routine below, your ideas might make someone's day or even fuel their creative fire to get writing! Go go go!